---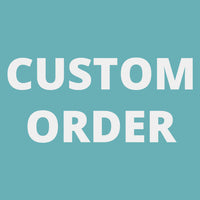 8 Book set of the Witcher volumes to be rebound with the following details:

Leather: Black goat leather

Decoration: light gold and red 

Ribbon bookmark: 3/8 inch ivory with gold trim

Endpapers: 

map by Stanislav Komárek

Front: light gold title and author's name with red wolf insignia (slightly smaller than the typical listing)

Spine: raised bands with red decorative lines narrower than the spine, red book number, and light gold title and author name

Back: light gold ouroboros serpent on the bottom half

#1 The Last Wish: ISBN#0316438960

#2 Sword of Destiny: ISBN#0316389706

#3 Blood of Elves: ISBN#0316438987

#4 The Time of Contempt: ISBN#0316219134

#5 Baptism of Fire: ISBN#0316219185

#6 The Tower of Swallows: ISBN#0316273716

#7 The Lady of the Lake: ISBN#031627383X

#8 Season of Storms: ISBN#0316441627

The client intends to purchase in increments of $200, with the books to be made once a total of $1200 has been reached. 

This listing includes a design proof to be approved by the client for each book before assembly, including two rounds of revisions if necessary. 

This item is handmade and made-to-order, so please allow 9 weeks for manufacture before shipping. 

Please note that this is a handmade item and natural leather and patterned endpapers vary from piece to piece, so please allow for minor imperfections and differences from the example shown.